Local history
Research into the history of the village shows that, like other West Highland and island townships, all of the houses were clustered into a single 'baile' or village before the setting out of crofts by the landlord in the early 1800s.
The Museum of the Isles in Armadale holds original copies of maps of the Clan Donald estate dating from the 1760s, by Stobie, and the maps created by Blackadder in the early 1800s, who was commissioned by Lord MacDonald to survey all of his estates and recommend how to lay them out as crofts.
The 'baile' of Camuscross was held by a 'tacksman' and included lands in Isle Ornsay and also the grazing of Alain, thought to be in Kinloch. The Stobie map shows that the tack included land over Allt na Beiste in what is now Baravaig. The original farmhouse is thought to be the larger house still standing on Croft No 15, which was for a while a school, until the school in Duisdale was built.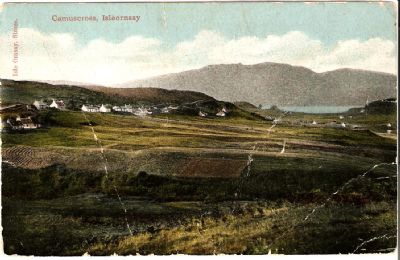 Photo of Camuscross in 1907
Blackadder drew up a township of 40 crofts. However, the crofts were very small: 2 to 3 acres on average, and the hill grazing is less than a tenth of the size of most other Sleat townships - although with many more crofters. It is thought that the crofts were deliberately made too small to live on, in order to 'encourage' the inhabitants to become fishermen during the herring boom.
Isle Ornsay harbour was reckoned to be one of the most promising harbours in the whole of Skye, and at one time was the major port for connections to the mainland. Isle Ornsay post office, then situated where the estate office now is, was the main post office for the whole of Sleat.
Emigration
Isle Ornsay harbour also saw the departure of emigration ships - the William Nichol, a Government emigration ship left on 6th July, 1837, bound for Australia. The Sillery departed on Sept 7th, 1853 for Canada. On board were people who had been cleared from Knoydart and the Glengary estates, to make room for sheep. A story local to Camuscross tells that the people were brought over in boats to the ship. moored in Isle Ornsay Bay, but that 4 young men from Inverguiseran 'escaped' and walked over the hills to Lochaber.
The Canadian Emigration Report of 1853 states:
"On board the Sillery, from Skye, there were 332 persons sent out from the Glengary estate. They were a fine healthy body of emigrants. They received a free passage as far as Montreal, and were allowed each 10 lbs. oatmeal on leaving the ship; and, owing to the increasing demand for labourers of all descriptions throughout the province they cannot fail to do well."
Taken from Emigration. Papers Relative to Emigration to The British Provinces in North America, British Parliamentary Papers 1854, XLVI, (1763 ).